In today's world certification is the buzz word. More and more regulatory agencies and authorities are requiring inspectors and instructors to be certified by a recognized national or international certifying body. To address this need within the industry, the PRCA is offers formal certifications for course inspectors and staff instructors. These Certification programs are not training events to learn these various skills; rather they are a PRCA formal testing of your skills and knowledge to perform these valuable services to our industry. The certification programs address the various applicable industry standards and regulatory issues including ANSI, ASTM, OSHA and of course the comprehensive ANSI/PRCA 1.0-.3-2014 American National Safety Standards for our industry. Certification programs are offered annual at the PRCA International Conference and other selective date upon special request.
Next Qualified Instruction Certification:
PRCA International Conference; 16 Annual Conference
March 7-10, 2019 – Tampa, Florida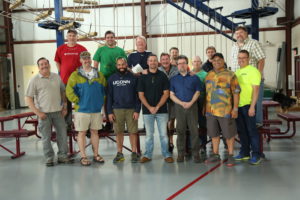 Tulsa, OK Graduating Class 2017
More information and consideration requirements, please review these supporting documents and required documents:
Renewing Certification:
For more Conference Information, please view Events Tab.
Active Certified Qualified Instructors
| | | | | | | |
| --- | --- | --- | --- | --- | --- | --- |
| NAME | CITY /TOWN | STATE | ZIP CODE | ENTITY | email | Supervisory endorsement |
| Thomas Andrews | Cicero | IN | 46034 | Pro-Image Adventures | hanley1000@gmail.com | |
| Michael A.P. Barker | East Hampton | CT | 06424 | Corporate Challenge – AM | climb1guide@gmail.com | X |
| Wade Beane | Oakhurst | CA | 93644 | EBL, Inc | wadebeane@hotmail.com | |
| Chris "Gus" Denzik | Hillsboro | OH | 45133 | Butler Springs | gus@butlersprings.com | |
| Sean Fisher | Mansfield Center | CT | 06250 | Holiday Hill | seangfisher@gmail.com | |
| T.J. Golson | Moss Point | MS | 39562 | Elevate Red Creek | elevateredcreek@gmail.com | X |
| Steven Gustafson | Rockford | IL | 61114 | EBL, Inc | steve@EBL.org | X |
| Peter Hatlestad | Walworth | WI | 53184 | Covenant Harbor | phatlestad@covenantharbor,org | X |
| Scott Jordan Ph.D | Marquette | MI | 49855 | Northern Michign University | scjordan@nmu.edu | X |
| Jack Kerns | Coffeyville | KS | 67337 | Team Adventures LLC | jackkerns@teamadventuresllc.com | X |
| Noel Pompa | San Antonio | TX | 78240 | Adventure Mas | noelpompa@yahoo.com | |
| Christopher Porreca | Londonderry | VT | 05148 | Adventure Mas | porreca_christopher@yahoo.com | |
| Jay Potter | Torrington | CT | 06790 | Adventure Mas | jepotter@mac.com | X |
| David Prowitz | East Troy | WI | 53120 | Camp Timber-Lee | dprowitz@gmail.com | X |
| M. Troy Richardson | Washington | UT | 84780 | Momentum Engineering | troy@ziplinedoctors.com | |
| Carrie Taylor EdD | Marcy | NY | 13403 | Utica College | cdtaylor1@utica.edu | X |
| Joseph "Dusty" Watts | Moss Point | MS | 39562 | Elevate Red Creek | elevateredcreek@gmail.com | X |
| James Willis | Chagrin Falls | OH | 44022 | Executive Edge Inc | jwillis@executiveedgeinc.com | X |
| Jon Beight | Hillsboro | IN | 47949 | Twin Lakes Camp & Conference Center | beight@twinlakescamp.org | |
| Josefina Bryant | Rockford | IL | 61114 | EBL, Inc. | bryantjosefina@gmail.com | |
| Skyler Gustafson | Rockford | IL | 61114 | EBL, Inc. | info@EBL.org | |
| T J Morris | Georgetown | CA | 95634 | InFaith Minisries | tjmorrissbc@gmail.com | X |