This quick guide clarifies what to look for when purchasing construction, inspection, or training services for a Ropes/Challenge Course, as an informed customer. The important concepts of being precise in questioning to sellers, and understanding how you can be mislead if you don't ask the correct questions.
First and foremost does your proposed Professional Vendor follow the comprehensive ANSI 1.0-.3-2014 American National Safety Standards for Challenge Courses (inclusive of aerial adventure parks, canopy tours, zip lines, and zip line tours).
General Questions to ask Vendors
Do you have insurance for building, training, inspection, and programming? (Two types-programming & products completion) Note: Most insurance carriers will require an inspection if you build your own Ropes Course.
Do you have references/documentation? (Regional, national, or international)
Who is going to do the training, building, inspection? (Specify ask for the individual name and resume/documentation) Be aware of companies (resume inflation) totaling up years of experience, rather than be specific about experience of individuals. You can request in bid proposal specifics.
What professional organization are you a member? (What roles do you hold in the organization?–Task force, working group, chair, or member)
Can you supply me with presentations or articles you have done?
Is your program peer reviewed or accredited?
Construction/Building Questions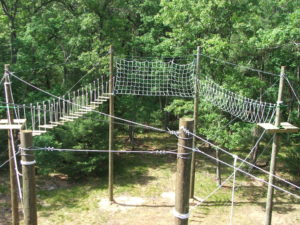 What is the experience of the builder? (Has she/he ever done much programming so that he truly understands from the facilitators' point of view.) Is the builder user friendly?
Has the builder built the type of course you are looking for? How many?
Does the builder follow ANSI 1.0-.3-2014 American National Safety Standards?
Does the builder follow manufacturing recommendations / use specifications for supplies/equipment? (Guy guards, etc.) Some builders self-modify manufacturer specifications without manufacturer approval leaving you at the potential for injury and higher liability.
Does he/she explain what you are getting concerning the elements on the your proposed course? (Examples: Nitro Crossing separate not combined, The Wall 8 feet wide verses 6 feet wide, For belay points on poles are eye bolts placed, platform on back of the wall or no platform, screwed wooden structures verses nailed wooden structures, layout of the elements separated not constructed together to save cost, Wooden Support are used to separate the 3-Line Bridge hand lines instead of just bolts, Tension Triangle Traverse and Wild Woozy are constructed as one element, Long lengths on elements verses short lengths, Short length on Pamper Pole width between poles, Craftsmanship- wooden edges routed, climbing towers placement of boards, staples on every pole verses on every other pole, are staples placed on both poles of Dangle-Duo and Pamper Pole or on Zip Line end pole, uses a small rope diameter on Nitro Crossing swing rope instead of a large diameter rope, are boundary supports made for the Nitro Crossing, are hand ropes adjustable with prussiks on Tire Traverse, Heebie Jeebie & Two Line Bridge, Duo Belays on elements, Are Deck Tennis Rings for the Trust Fall included, swages verses cable clamps, are turnbuckles included with low cable events so they are adjustable)
Does he/she offer a warranty for the course and equipment?
Is the equipment offered the quality of what you want? If not, is there a trade off in price? Ask for justification in fact and not just a personal preference.
Is the vendor knowledgeable about current arborist practices? (Including trimming and mulching of trees)
Training/Programming Questions
What is the experience of the trainer? Is the trainer certified as a Qualified Instructor? Have they trained the type of staff you have: commercial zip line / canopy tour tour guide, aerial adventure park guide, low and/or high challenge course facilitators, etc?
Does the training / evaluation comply with the ANSI 1.0-.3-2014 National Training Scheme?
Does the trainer have insurance? (What type?)
Does the trainer have a written curriculum design that includes things you feel are important? Does the curriculum specifically address the needs or your organization / course?
Does the vendor provide written materials that include technical issues and where applicable processing/review material? (Does the material include ways to produce a manual after training?)
Does the vendor include ways for contact/supervision after training for questions?
Does the vendor provide Certifications in accordance with the ANSI 1.0-.3-2014 ANS?
Does the vendor's rescue trainers meet the ANSI 1.0-.3-2014 ANS requirements for qualified rescue trainers?
Inspections Questions
Is the vendor inspecting for compliance with the ANSI 1.0-.3-2014 American National Safety Standards or another standard or just their own preferences? (Other standards do not address both participant and employee safety requirements, compliance with manufacturer specifications, prohibitions against known connector hazards, compliance with OSHA regulations or American life safety system strength requirements. Some standards follow European life safety strength requirements which do not meet the US regulations and other ANSI American National Standards. There have been some cases where an inspection to other standards has passed everything but an accident followed shortly after; if the ANSI 1.0-.3-2014 had been inspected to the accident would not have happened.)
Does the vendor issue an on-site verbal report and a follow-up written report with problems and/or recommendations explained in detail? (Is there an explanation of the differences between a vendor's preference and the ANSI ANS or other standards.)
Does the Inspection include looking at the Operations Manual and making corrections?
Is the vendor insured for performing inspections?