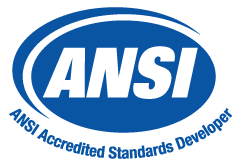 "The Professional Ropes Course Association has become the FIRST ANSI Accredited American Standards Developer for the Challenge Course, Canopy Zipline Tours, and Aerial Adventure Parks industry, effective December 2, 2005. This defined means that the PRCA has an accredited process that allows for fair and equal representation in developing standards."
The PRCA began the process to become an ANSI Member and approved as an Accredited Standards Developer (ASD) for the Challenge Course, Canopy Zipline Tours, and Aerial Adventure Parks industry in March 2005, having received final ANSI ASD certification on December 2, 2005. This means that the PRCA has an accredited process that allows for fair and equal representation in developing standards, without dominance from any one industry group. Having achieved this position, the PRCA now works with a broad and talented Consensus Body group of industry professionals that serve in a formal capacity, sharing their education, knowledge, and expertise in the industry. This group is responsible for adhering to the ANSI process, the PRCA approved procedures, and conducting public reviews and implementing feedback received from commentary.
What is ANSI?
The American National Standards Institute (ANSI) has served in its capacity as administrator and coordinator of the United States private sector voluntary standardization system for more than 80 years. Founded in 1918 by five engineering societies and three government agencies, the Institute remains a private, nonprofit membership organization supported by a diverse constituency of private and public sector organizations.
Throughout its history, ANSI has maintained as its primary goal the enhancement of global competitiveness of U.S. business and the American quality of life by promoting and facilitating voluntary consensus standards and conformity assessment systems and promoting their integrity. The Institute represents the interests of its nearly 1,000 company, organization, government agency, institutional and international members through its office in New York City, and its headquarters in Washington, D.C. ANSI serves as a conduit for information exchange between the public and private sector. ANSI assists in the cross-communication of public-sector views to U.S. organizations and companies and private-sector views to government officials. Staff in ANSI's Washington D.C. headquarters takes the lead in maintaining key government relationships and monitoring public policy issues in the area of standards and conformity assessment.
Talking Points
The ANSI/PRCA American National SAFETY Standards have been referenced and adopted by state regulators, used by OSHA for citations and violations of employers, and referenced by expert witnesses in legal proceedings.
The PRCA was formally accredited by ANSI on December 2, 2005 making it the first industry association to achieve this credential; no other industry association was pursuing this level of accreditation for developing a consensus based ANS. Since that time, multiple public review periods of the draft American National Safety Standard have been conducted and over one thousand comments were received, reviewed and included into the ANS by the PRCA Consensus Body, in accordance with ANSI accredited procedures. Since 2006 the PRCA also reached out to other industry associations (e.g. ACCT) offering to produce a joint ANSI ANS for consistency and the overall good of the industry..
In March 2014 ANSI designated the ANSI/PRCA 1.0-.3-2014 as the SOLE American National Safety Standard for Challenge Courses (including aerial adventure parks, zip line tours, canopy tours and the standard ropes challenge courses). As a safety standard, this covers both participants and employees.
The ANSI ANS is entirely managed by a committee consisting of individual representatives of industry associations, national organizations, insurance carriers and other materially affected entities meaning that no one association or organization has control over the American National Safety Standards.
Prior to the development of the ANSI ANS the PRCA's first set of installation standards was issued in 2003 and open calls for contributions was made on two industry listserves for input. This call included invitations to many well known builders in our industry. The second set of standards came out in 2004 and this version also included invitations to many of the very well known builders today via listserves and personal invitations. The 3rd Edition was released in 2005, and included standards for installation, inspection, operations and ethics. Facilitator certification standards were also included.
The PRCA has always sought to have a great variety of input from a number of sources while setting standards. For many of the standards, specific organizations' input has been solicited, as well as systems set up for any interested parties to be part of a reader group. Such opportunities have been announced to the entire industry through newsletters, industry listserves, and direct e-mails. This includes AEE, ACCT, ACCT PVM's individually, listserves (AEE / ROPES), Hibbs Hallmark, Stratus Insurance, K&K Insurance, Markel Insurance, WEA, BSA, ACA, AORE, CCCA and ANSI.
The PRCA has a growing membership both nationally and internationally. Additionally, PRCA standards have been recognized as the industry standards in court cases and have proven creditable and effective. The new ANSI ANS is being considered in OSHA compliance cases also.
The PRCA started with builders AND programs alike, and now serves many facilitators, builders, as well as insurance representatives, attorneys, course managers, owners, university professors who teach in this area, K-12 school, teachers, park district personnel, camp personnel, and others interested in challenge courses.
Four major insurance companies who insure challenge courses also have begun to adopt the PRCA standards. They are also under consideration for use in legislative and regulatory arenas.