Conditional use of name and logo
Organization, Accredited Vendors, and Corporate Sponsors in good standing may place a statement on there official webpages that reads as follows:
"We are proud members of the Professional Ropes Course Association (PRCA). Established in 2003, the first Accredited Standards Developer (ASD) by the American National Standards Institute (ANSI) in 2005, ANSI/PRCA is the sole American National Safety Standard for the ropes course, zip line canopy tour, and aerial adventure park industry. Inclusion of both patrons and employees, the ANSI/PRCA ANSS is the most comprehensive standard, with reviewed and accredited sections of Installation, Inspection, and Training, including all standard narrative information. For more information, visit https://www.PRCAinfo.org"
The approved logo for use and distribution on website or other official company collateral is: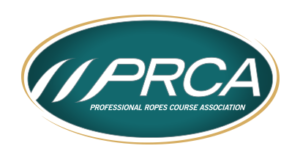 The PRCA name, logo, and distribution rights remain property of the Professional Ropes Course Association.